You're probably thinking it's too much effort, and you may not want to heat up your food again, but preparing your food ahead of time – and then grabbing it when you need it is one of the most effective ways of limiting what you're consuming, not relying on your willpower and actually staying on track with your side of the diet.
We all know how important your diet is to weight loss if you haven't heard it before;
Train for strength, diet for fat loss
And when it comes to dieting, meal prep is the most convenient and trusted way to ensure you stick to your diet.
With your meals at your disposal you no longer have to grab food on the go, say no to foods when you're hungry and most of all, not have to think about what you're going to eat (and cook it) on the day. The amount of energy I waste on a daily basis thinking about this is nuts, if my food's done it's one less thing to think about, and with a little one running around – it makes my life so much easier.
Before I go into the details and provide a step-by-step guide – we have to make sure we have the food at hand. So step one is:
Decide when you're going to go shopping
For me, and most of my clients, shopping online is way easier. It saves time and allows you to do other things in that time. Get the food delivered on the weekend, perhaps later on, Saturday night or so when kids clubs aren't awake and you'll have some quiet time.
Once you've committed to that, get your shopping list sorted. Here's a good place to start. It's not perfect, but it covers protein, fats, carbs, and spices.
Look at your calendar and decide when you need meals for. If you're busy and have meetings all day, you may need to make meals ahead of time for those moments. Ideally, look 3-4 days ahead at a time. Look for times that:
You have meetings and don't have time to prep foods
You're dropping your kids off at school and then are out afterwards
Have commitments in the evenings and are busy throughout the day
Essentially look for two things:
Times when you need to eat but can't prepare your food
And times when you have a lot of free time that you can either prep ahead or make your food for that meal.
Once you have those details add 'Meal Prep Time' to your calendar and share it with your family or partner so you're both on the same wavelength. Ideally, you want 90 minutes. Yes, this post is '60 minutes or less' but for the first few times, it'll take you a little longer.
Sweet, so we have three things sorted:
Food Shopping
Our Shopping List
Meal Prep added to the calendar
Now we have that, we need to know what we're going to be cooking
Deciding What To Eat & When
I like using the 3,2, 1 Method when it comes to meal prep
3 options for Breakfast (Option A, B or C)
2 for Lunch (Option A or B)
1 for Dinner (Option A)
This generally covers most things. In short, the 3 options at breakfast mean you've covered the base for when you're rushed for time, have a normal day, and are more relaxed with time, say like a weekend.
Look at your calendar and mirror what option you need to be eating for what your time looks like
Let's say this is your 3-day week from Monday to Wednesday ⤵️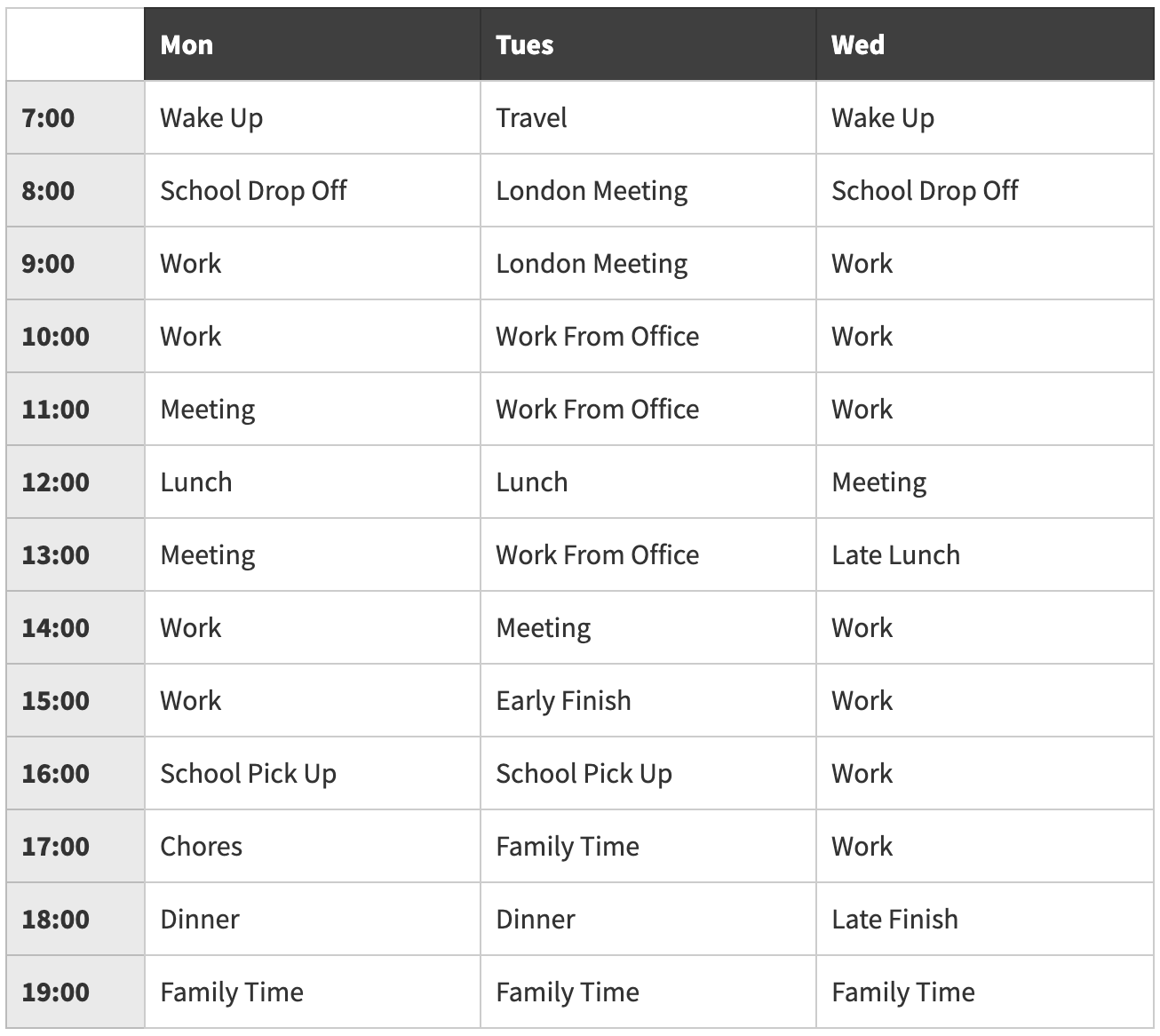 Once you've added that, let's take the next step in adding in the meals you need to eat, for ease it's Breakfast, Lunch and Dinner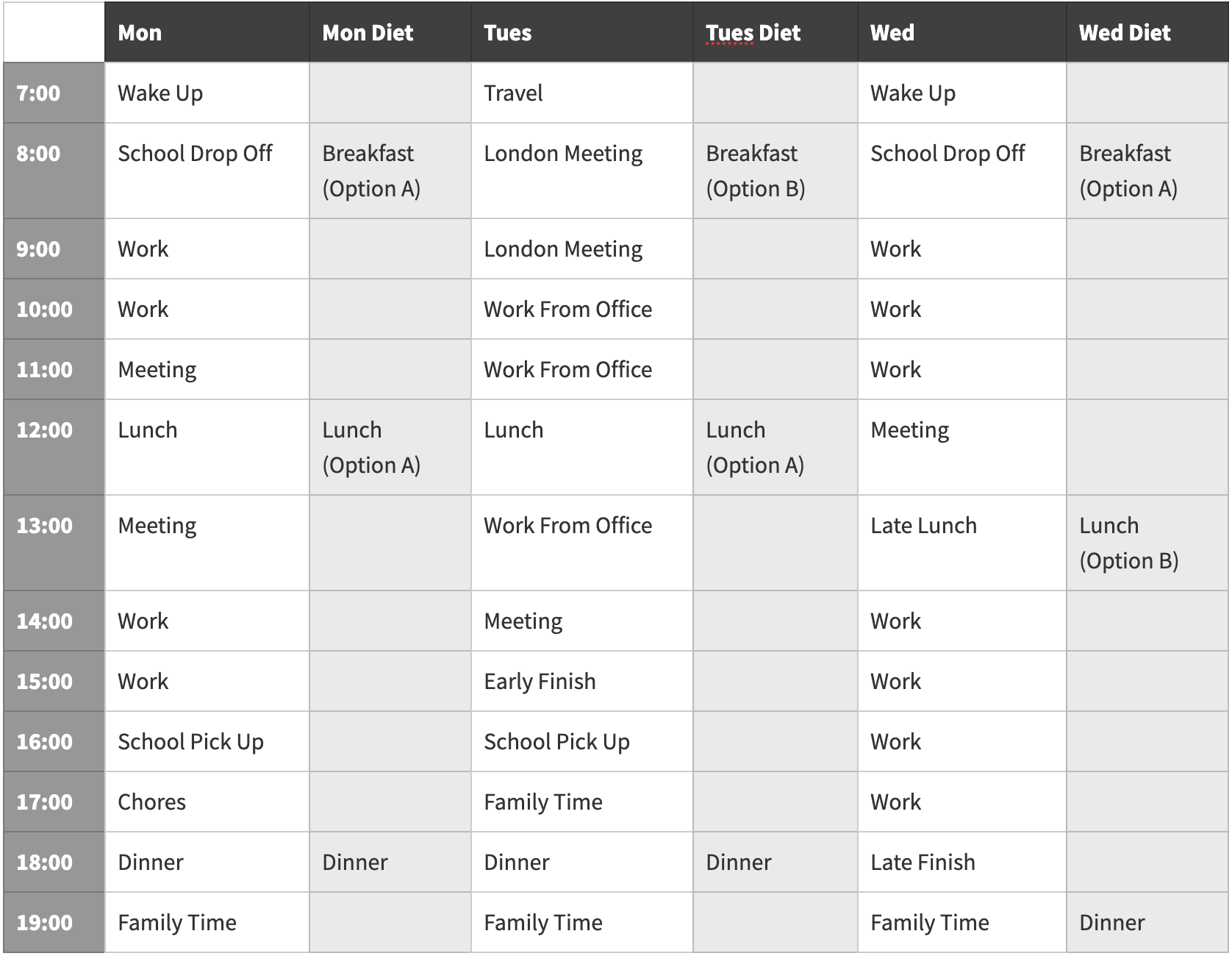 On Monday and Wednesday, breakfast is going to be Option A – the usual because you're dropping your kids off at school. On Tuesday though, you're pressed for time so that will be Option B. Lunches will be the same on Monday and Tuesday, both Option A, but Wednesday is going to be a rushed late lunch, so Option B. Finally, Dinner will be the same throughout, but on Wednesday you'll be eating on your own as you get in late from work.
From that, we can work out you'll need to make two types of breakfast and two types of lunches. For dinner, you'll be having different meals, but they're not pressed for time, so that's up to you and your family as to what you'll be having.
You'll also be aware that option A breakfasts will be at home, whilst option B's will be on the go, either on the train or in the car. Likewise, Option A and B Lunches can be the same, even though you'll have them in different places (home/work). Option B for lunch will be at home, but rushed so you'll have to make something that is quick to eat.
Again, dinners will be where there are two of you to make your food, perhaps so you'll make them on the day unless you eat the same for Dinner two days in a row but have the leftovers the next day.
We have the time you're going to meal prep from earlier, let's say it's 7:30 pm on a Sunday. And you have 90 minutes. Here's what you need to be making:
Breakfast x 3 (2 normal days (A), 1 rushed day (B))
Lunch x 3 ( 2 normal lunches (A), 1 rushed lunch (B))
Dinner x 3 (varying)
Next, we'll need to look through the recipes and decide what meals we can make with the time we have. Each meal must contain:
High protein
Micronutrients (veggies or fruit)
Fibre
My clients have access to over 400 recipes to choose from that cover these bases.
Here are a few to start:
* Remember to write down the ingredients and add them to your shopping list for the week.
BREAKFAST RECIPES
Option A – Breakfast
Option B – Breakfast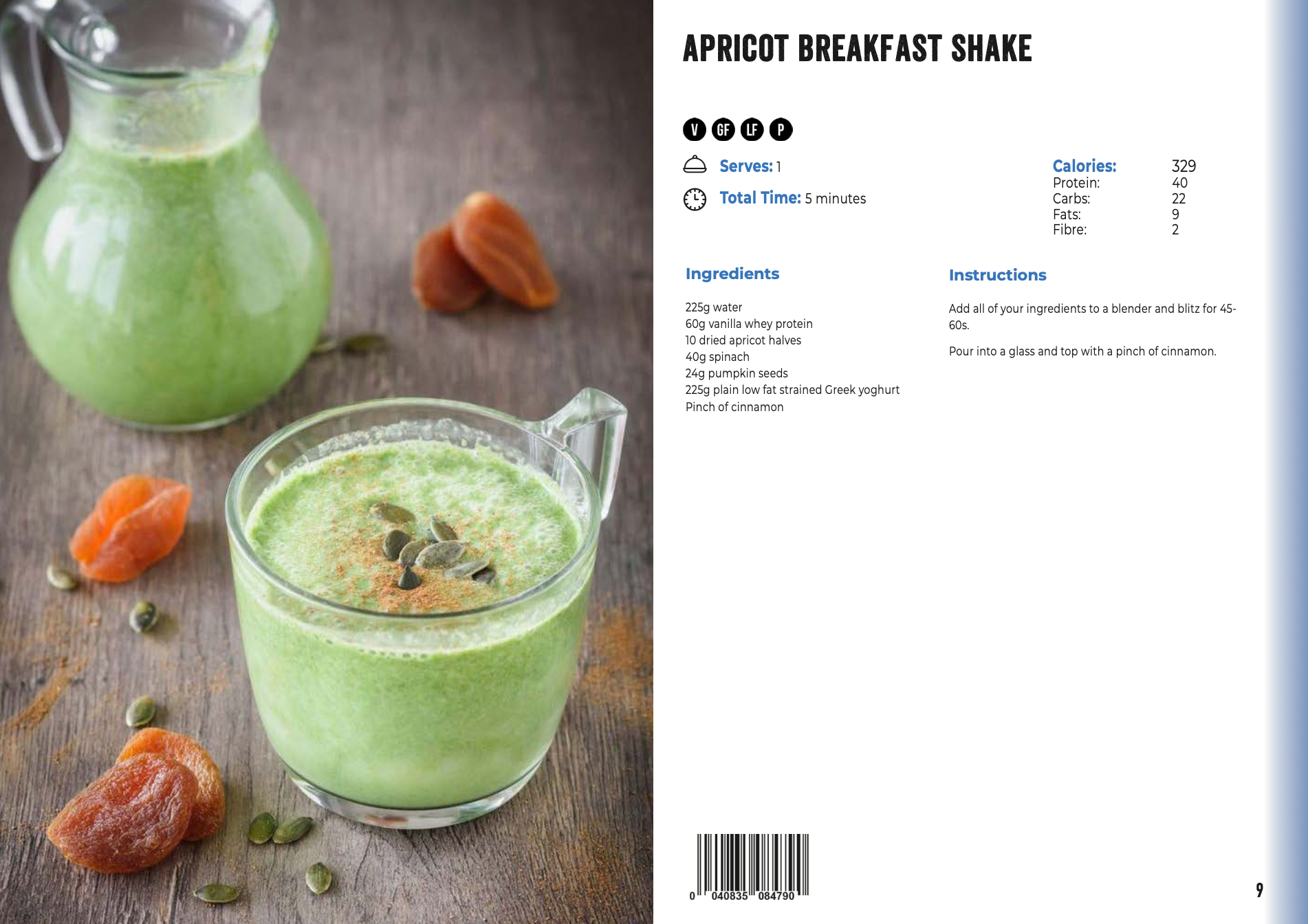 These make 2 or 3 portions, so they can be stored in the fridge for the next couple of days.
LUNCH RECIPES
Option A – Lunch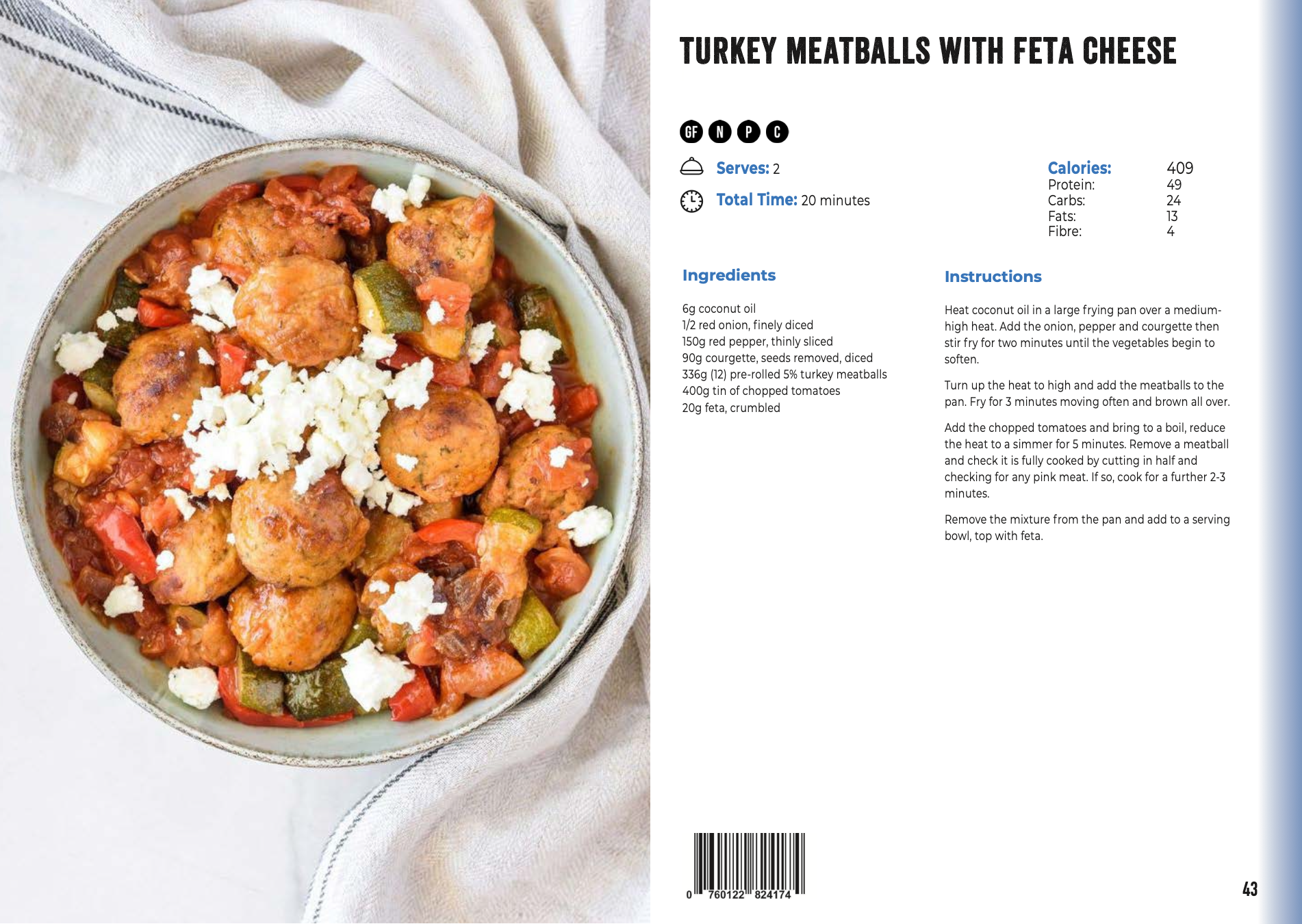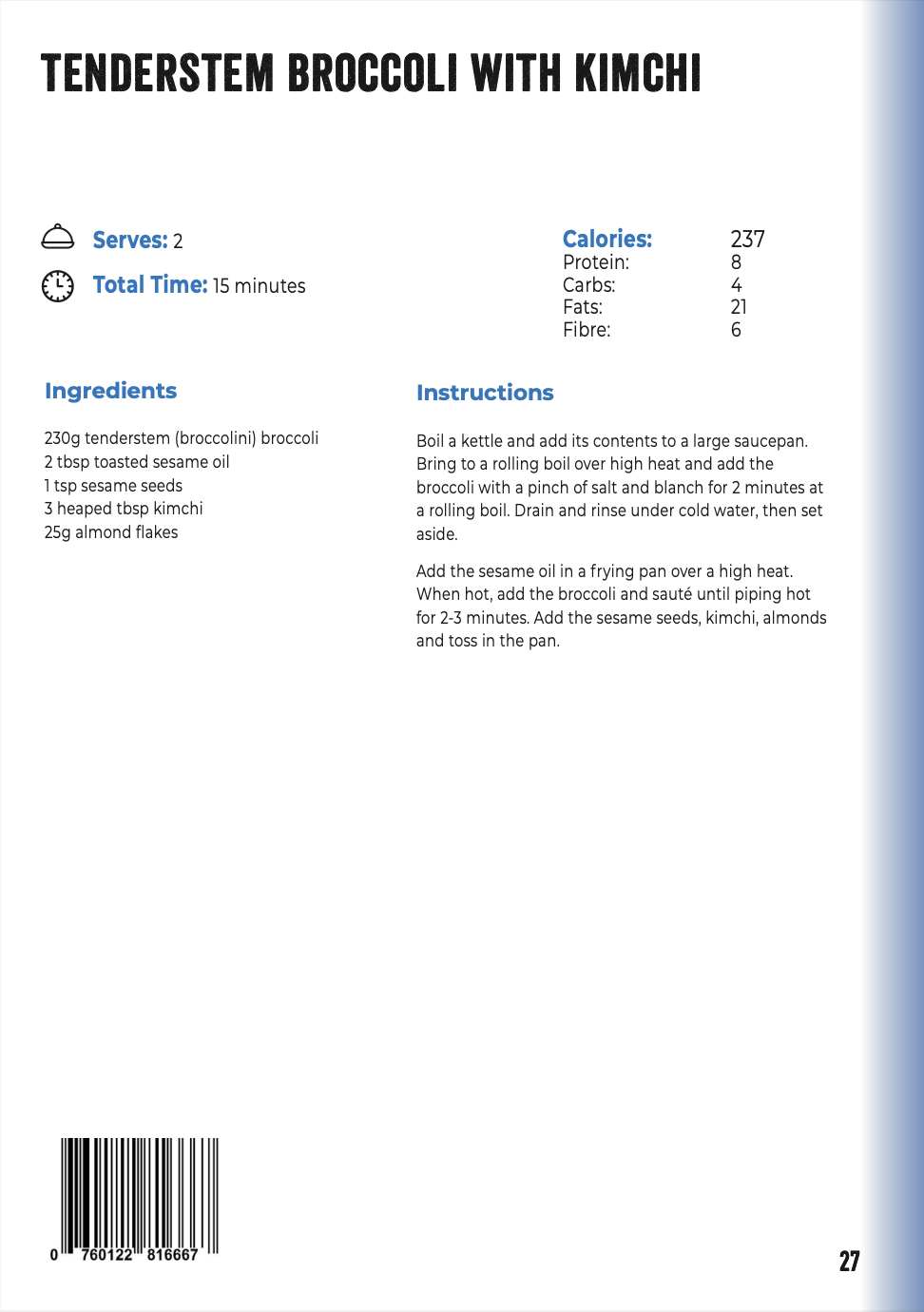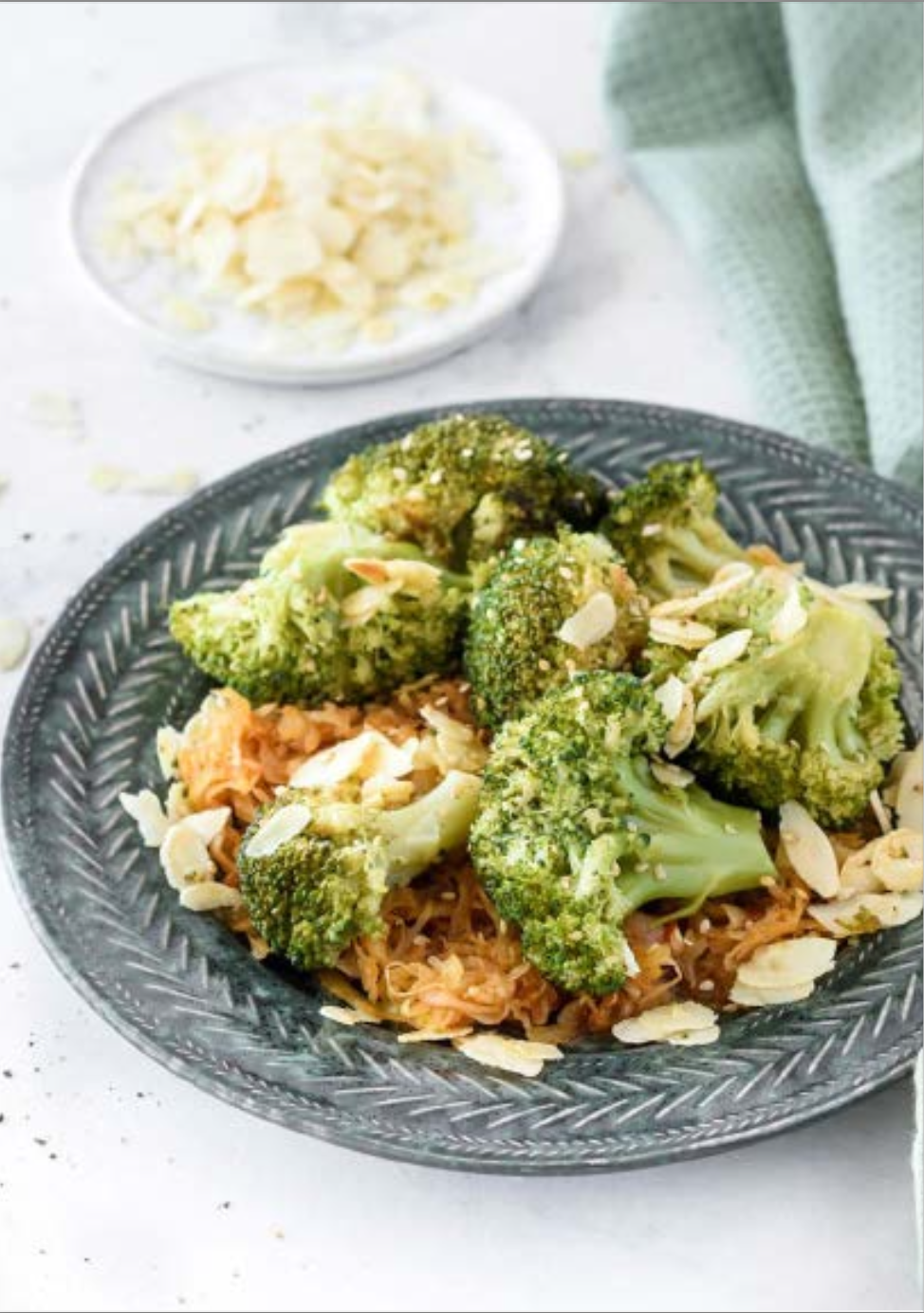 Option B – Lunch
Dinner (2 meals)
With these meals, you can see the average prep time is around 5-15 minutes minus the Parmesan Crusted Chicken which is 45 minutes.
Step 1: Grab all the ingredients and place them according to each recipe.
Step 2: Start with the Parmesan Chicken. Make this first, and get it in the oven.
Step 3: Once the chicken is in the oven, start on the Turkey Meatballs and Tenderstem Broccoli. Once they've been made and are on the pans / boiling you can crack on with the Butterbean and Chorizo stew.
Step 4: Once you've added the Butterbean and Chorizo Stew to the pan and it's been simmering for a few minutes it's time to take out the Parmesan Chicken, as well as the Meatballs and Broccoli. Divide these up into containers and let them sit for a while while you're preparing the rest.
Step 5: Now move on to the breakfast, but double up the Peach Yoghurt Bowl so you have two portions. Put them into containers and then blend the Apricot Smoothie.
Step 6: Leave the Apricot smoothie if you like until Wednesday morning for when you need it so it stays fresh.
Step 7: Finish the Butterbean and Chorizo Stew and divide it into containers.
Now you'll have all your food ready and stored for the days ahead except Wednesday's breakfast, which is a smoothie (quick to make) and the Tuna Wraps which can be done when you get in home from work – just 5 minutes to make.
This is how easy it can be, if you plan ahead and prepare what you're going to eat and when to match the times you're busy or not. As mentioned at the start, doing this reduces 'decision fatigue' when you're out and about, stops you from overeating and potentially choosing a lesser meal and gives you time back in the week.
If you'd like to grab over 100 recipes, all high in protein, with breakfast, lunch, dinner sides and dessert options included. Then follow this link below to grab 5 recipe books, each packed with 30 recipes, and fully barcoded for MyFitnessPal.
TLDR;
Book a time for online shopping
Map out time in your calendar for prepping your meals
Decide what you're going to eat and when
Add ingredients to the shopping list
After food is delivered, prep your meals
Store in the fridge ready to eat